We transform environments.
We immerse audiences.
We bring your vision to life
.
At Protec, we have always believed that every member of an audience deserves the best seat in the house. As such, we have perfected a method that has had audiences from around the world experience some of the most extraordinary and memorable shows since our beginning in 1999.

Essentially, it comes down to the best kit and the best people. To deliver a successful project, you must have strength across every department. Our commitment to a quality comprehensive staging and technical solutions production package – from designing to delivering exceptional events in any venue or location – remains true and consistent. Our processes are ISO 9001:2015, ISO 14001:2015 and ISO 45001:2018 accredited. We never cut corners on quality, safety, or reliability. We work hard to respect the environment, and ensure we minimise our impact both on-site and within our warehouses.

Our well-equipped facilities stock one of the largest inventories of market-leading event technology brands. This in-house stock allows us to be adaptive, flexible and responsive to shorter lead times when our clients need us the most. Our reputation for consistency and reliability has been earned through decades of experience delivering a broad range of high-profile and engaging events. Protec's expertise and local knowledge make us the ideal choice for any event, particularly when the stakes are high. We believe in a collaborative approach and support you at every stage of the process to strengthen the legacy and purpose of every event.

Your vision. Our expertise.
Once we receive your inquiry we will get in touch and set up a meeting to introduce you to your account manager who will listen carefully to your concept and involve the key technical personnel to start the planning process.
From an initial site visit to a fully immersive viewing experience in our pre-visualisation suite, we can support your planning and help you tweak your creative vision every step of the way. Our technical and design team use the most advanced resources to ensure your event looks and sounds perfect.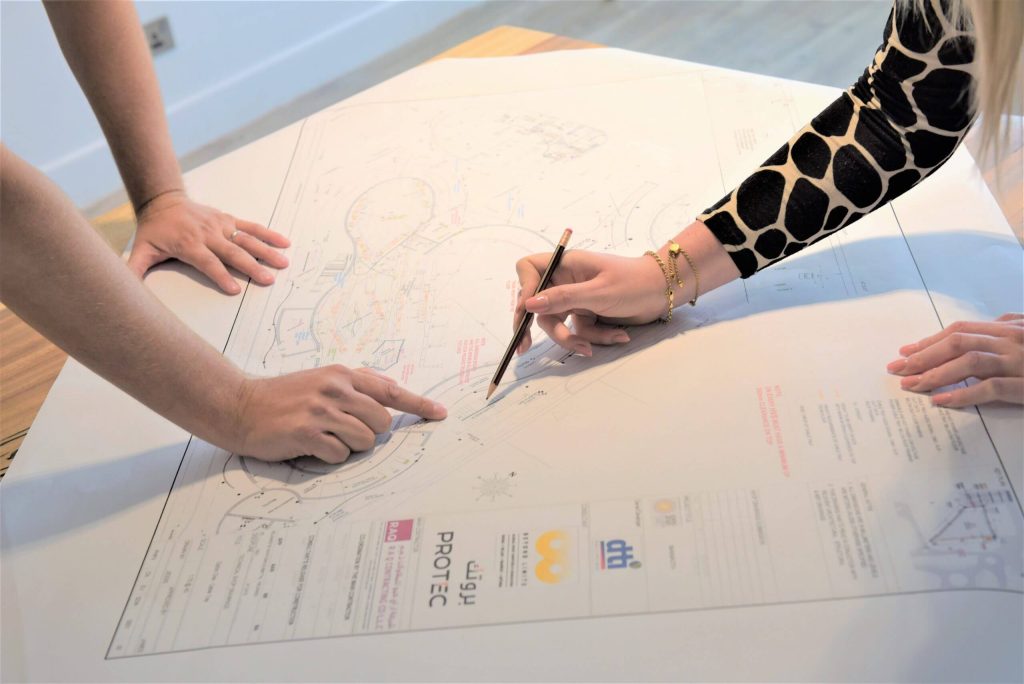 Our ISO quality systems and processes ensure our equipment is regularly serviced and always tested before arriving on site. With final checks complete, everything is loaded and delivered to site where care and attention is paid to minimising impact on the venue. Our experienced setup crew work quickly and cleanly.
Our team are on hand to ensure all your planning culminates in a memorable experience with as little stress as possible. Our broad range of technical expertise and knowledge of local venues mitigates risk so you can focus on your event. After the event, we will be available to debrief and help you with any post event requirements.
TPMEA AWARDS 2022
"Corporate Audio Engineer of the Year – HOD George Forsyth"
EVENTEX GLOBAL AWARDS 2020
"Best Middle Eastern Event" Gold Award
EVENTEX GLOBAL AWARDS 2020
"Best Industry Supplier" Bronze Award
WOW AWARDS 2019
"Opening/Closing Ceremony of the Year – IDEX 2019" Gold Award
MESE AWARDS 2019
"Industry Icon Award – CEO Stephen Lakin"
TPMEA AWARDS 2018
"Industry Icon Award – Stephen Lakin"
AV AWARDS 2018
"AV Production, Staging, and Rental Company of the Year"
MESE AWARDS 2018
"Best Use of Technology"
MESE AWARDS 2017
"Best Use of Technology"
"Best Temporary Venue or Structure"
"Best Event Video Solution"

MESE AWARDS 2015
"Best Use of Technology"
"Best Temporary Venue or Structure"
Established in 1999 by industry leader and pioneer Stephen Lakin, Protec is a quality-driven, client-centred turnkey event production, equipment rental & staging company with operations in the United Arab Emirates, Saudi Arabia, and the United Kingdom.

Protec was founded after Stephen started from scratch, grew and took public two successful AV industry businesses. Firstly, Viewplan in the UK, a company which carved out a significant place in the market providing AV and production equipment for broadcast and events, followed by Gearhouse, a global powerhouse, which become the largest production hire company in the world with 63 branches spanning five continents and just under 3000 employees.

After a brief retirement in 1999, Stephen started to consider a new company based in the Middle East that would offer a world-class service on par with any major city globally. Protec was and still is, a passion project born out of a vision and desire to provide the world's best available technical solutions locally in the Middle East. With this vision in mind, Stephen won a large project in Saudi Arabia to launch the Faisaliah Tower He purchased twenty 40ft containers of industry-leading equipment. This initial job and investment led to Protec setting up in Dubai and growing into an award-winning market-leading company over the next 20+ years.

That goal of investing in the best equipment and the most passionate, highly skilled event professionals remains constant to this day. Despite the rollercoaster ride of the past 20+ years, Stephen harbours no regrets. Protec is a passion project, a legacy, and has kept true to its key values of delivering high-quality, creative, and safe solutions consistently and reliably.

With fully operational branches in the UAE, KSA and the UK, Protec has since expanded to offer that same award-winning approach to our clients across the Middle East, UK, and Europe – world-class solutions with a local touch. Sharing a vast global inventory worth over $80m, Protec can deliver any major event, anywhere.
"Protec started as a passion project. I'm incredibly proud to see that same passion reflected in the culture and attitude of each team member today as the company evolves and grows."