Transforming spaces for
immersive

experiences.
Protec embraces rapidly advancing video technology to push boundaries. We utilise cutting edge projection mapping and LED technologies to bring creative visions to life, whether it's large-scale architecture, small objects, or temporary stages. With 180+ projectors and 800sqm of in-house LED, we cater to both large events and intimate brand activations.
Our immersive technology transforms spaces, captivating audiences and leaving lasting impressions. We focus on the details to make your event truly memorable.
Superlight and can be installed in either a curved or straight configuration, this quick-to-install LED wall is rated for outdoor use.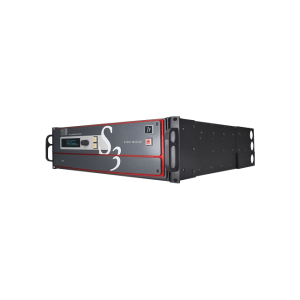 Video Control & Processing
Featuring 12 input channels, 4 PROGRAM outputs, 4 AUX outputs and 2 dedicated Multiviewer outputs, the S3-4K is the E2 image processor's more compact sidekick. Under the hood, however, it boasts the same processing performance, image quality, flexibility and rugged durability. In short: all the tools you need to create a stunning live experience, in a single compact and roadworthy housing.
Video Control & Processing
Raising the bar for live screen management, the E2 presentation system provides superior image quality, exceptional input and output density, great expandability and durability. Supporting native 4K input and output, it is the first and only screen management system on the market that can manage a 4K projector blend with refresh rates up to 60Hz. A truly versatile system, it offers eight mixable PGM outputs and four scaled Aux Outputs for full show control with a single box.
Video Control & Processing
Design. Sequence. Control disguise Technology is more than just a media server. Based around a real-time 3D stage simulator, it is the single solution needed to design, present, communicate, sequence and playback your show. d3 lets you work with props, venues, LED screens, projection, lighting and moving stage elements, while being completely integrated into a single intuitive software solution running on dedicated d3 hardware.
Video Control & Processing
OmniCal is a camera-based projector calibration system used in conjunction with Disguise (d3) media server products. OmniCal quickly creates a 3D representation of your stage by projecting light patterns from the Disguise server by the projectors. These patterns are captured by the cameras and relayed over the network back to the server translating the data into a 'point cloud'. OmniCal calibrates the relationship between pre-existing 3D meshes and projection surfaces at sub-pixel accuracy. In the event that the stage, projection surfaces or even projectors are moved, OmniCal can instantly adjust its calibration to match. Any discrepancies between 3D meshes and the physical surfaces they represent can also be corrected. OmniCal can dramatically improve projection quality and set up time, for even the most complex of setups.
30,000 lumens, WUXGA, 3-chip DLP projector with standard FLEX brightness
Single Xenon lamp for ultimate color accuracy
FLEX brightness as standard
On-board ImagePRO technology for remarkable scaling power

YOUR VISION OUR EXPERTISE
YOUR VISION OUR EXPERTISE