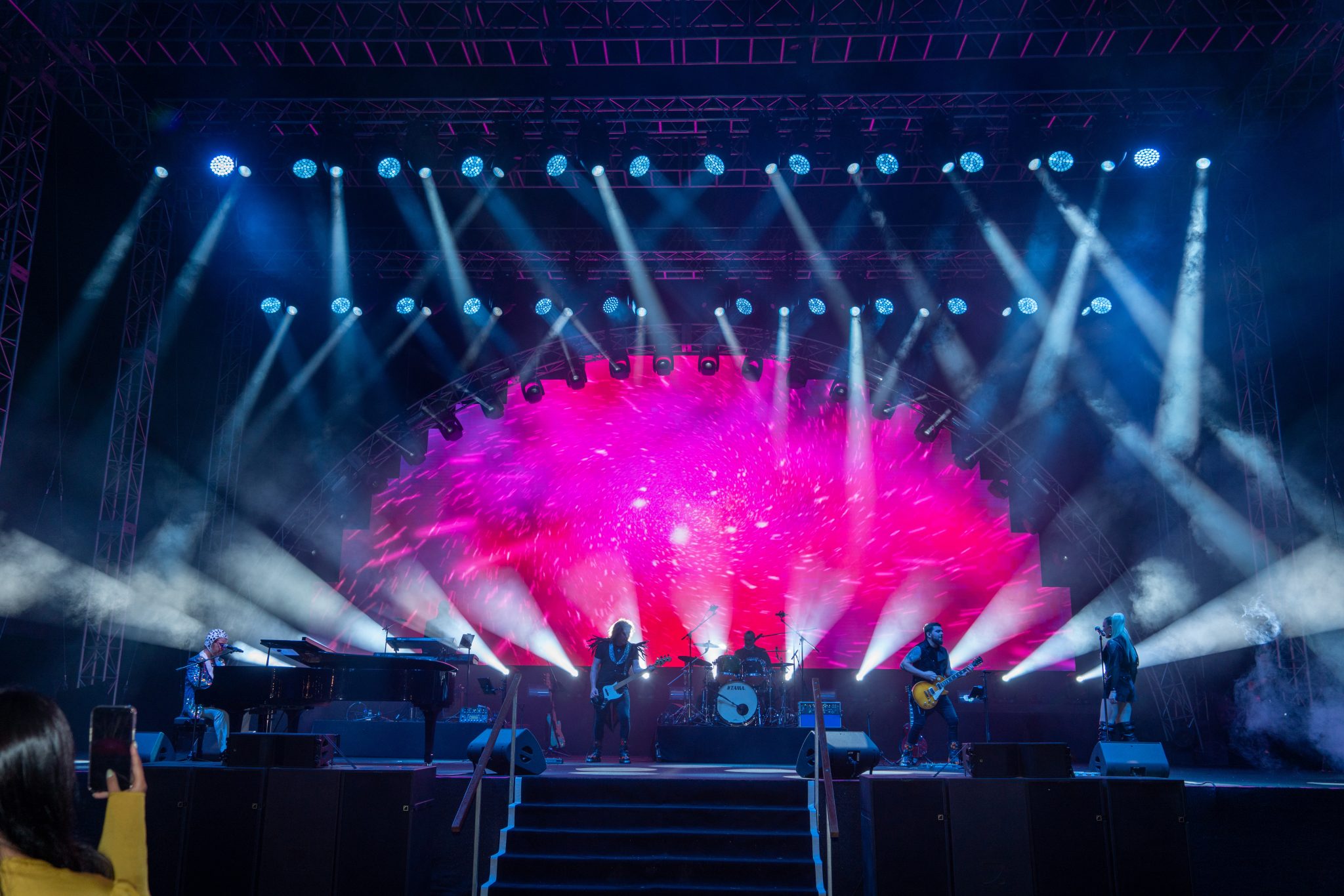 IADC Gala Dinner
Protec proudly supported its client Gulf Arena in delivering an elevated gala dinner experience at Emirates Hills Golf Club. Set outside on the lawn, the event included live performances and a 10-minute multimedia show including fireworks, lasers, and a timecoded light show. Protec provided a 12-leg ground support, comprehensive rigging solutions, an impressive 273-fixture lighting package, a full audio setup and backline support.
"This was an arena-sized stage and an arena-sized gig," stated Project Manager, Mark Battle. "It was a great show to be involved with and we had a lot of fun doing it. The acts, Rocket Man [an Elton John tribute band] and Gorgeous George [the house cover band], were excellent and the event was a great success. We are proud to have been a part of it. Well done to our client, David Patrick, and the other suppliers."
With lighting a key part of the brief, Protec chose lighting designer Steve Shipman to design and operate the show. "The brief from the client was to create maximum 'wow factor' and also fulfil some corporate requirements," Shipman explained. "The show had multiple elements to light. I needed to consider speeches and formalities, Rocket Man, Gorgeous George, a 10-minute multimedia experience which included timecoded lights, lasers, and fireworks, as well as general audience ambience lighting."
Shipman's lighting solution included a variety of Protec's lighting inventory. The main workhorse fixtures were from Claypaky, with Sharpy Plus and Super Sharpy placed throughout the rig, mainly for air effects, and Scenius Unico placed behind the stage performance area. Shipman deployed K20 wash and A.leda B-EYE K20, as well as GLP impression for stage wash. SGM Q-7 and P-10 were placed around the audience for ambience and wash effects. Protec supplied an MA Lighting grandMA3 full size and a grandMA3 light for control.
"We didn't have any major challenges," Shipman reported. "This event had plenty of planning time and I was given the freedom to get the lighting how I wanted it. The only minor challenge was working long distance with Rocket Man. I needed to program a one-hour show to timecode. I knew we would have limited time on site, so the band sent me a live show recording and a timecode click-track. I did the programming in MA3D before we started on site," he explained. "Overall, this was a fun project to be involved with as a lighting designer. The client was very open and onside in terms of understanding what it takes to make a great light show, and they wanted a light show with maximum 'bling'!"
Protec's rigging solution included a 12-leg ground support, which took a team of 18 crew took two days to install. Each leg was ballasted by one-tonne anchor blocks and four two-tonne blocks were placed at the back. Qasir Ali, Protec's rigging supervisor, explained the challenges.
"We were working on an uneven grass surface in front of Emirates Golf Club. After safety, the most important thing is to ensure we get things right the first time to avoid any damage to the lawn. Positioning the anchor blocks correctly the first time was key, and there were a lot!
"Protec has a large amount of trussing in-house, and we utilised a variety of shapes in the design, which made it visually interesting. We also provided all the rigging points for the video suppliers. Overall, the show build and derig went very smoothly and we were loaded out very quickly. The crew pulled together very well as a team."
George Forsyth, Protec's Head of Audio – and winner of the Corporate Audio Engineer of the Year at the TPMEA Awards 2022 – filled us in on the audio solution. "We deployed two hangs of nine L-Acoustics K2 with eight SB28 in a cardioid configuration, with KARA front and side fills," he described.
FOH Engineer Romario Fernando operated a DiGiCo SD10, while monitors came in the form of L-Acoustics X15 with Sennheiser IEMs, controlled by a DiGiCo SD9. "We provided a comprehensive mic package including AKG 414s, Shure Axient AD2 with Beta 87A capsules, DPA 4099 on the piano and a selection of Shure and Sennheiser mics for backline with Radial DI boxes for keys and pads," Forsyth added. "Our RF receivers were Shure AD4Qs with AD2 Handheld Transmitters on each vocal. We also supported the bands with backline solutions. This show was a lot of fun to deliver. Both bands were very professional and delivered great performances. I must compliment my team as they did a great job and worked really well with other departments."
Mark Battle shared similar feedback on the event delivery. "Protec's amazing team effort must be acknowledged. All the drivers, warehouse staff, office staff, upstairs and downstairs, and everyone from all the departments that worked on this show all pulled together and worked as an amazing team," he concluded. "This was especially noticed by our client who was overjoyed with the performance of the Protec team and commented that in the 20 years he has been putting this show on, this one was the best yet. We'd like to offer a sincere thank you to our client, David Patrick from Gulf Arena, for trusting in Protec to deliver this fantastic and memorable event and giving us such positive feedback."