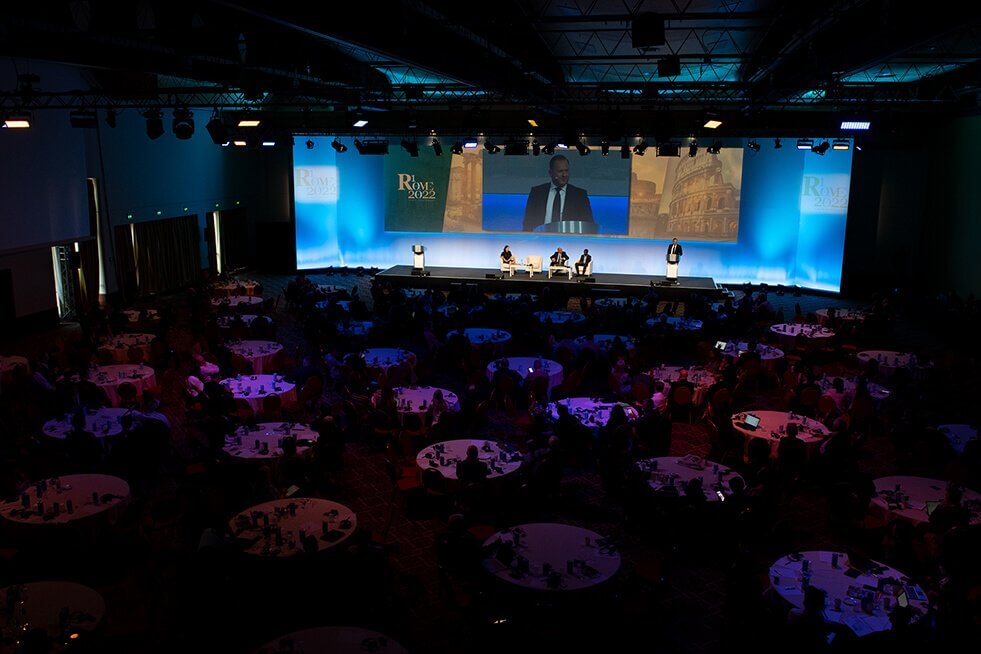 ICMIF Conference 2022
The ICMIF (International Cooperative and Mutual Insurance Federation) recently celebrated their centenary in Rome, the city where they were founded 100 years ago. The largest global gathering of its sector, it was an inspiring conference featuring globally renowned speakers, insightful panel discussions and unrivalled industry peer-to-peer networking. Having worked with the ICMIF for many years delivering events all over the world Protec's director Stuart MacLachlan was honoured to be trusted once more to deliver such a prestigious event as the centenary.
With the client's vision leading the process Stuart designed technical and staging solutions that exceeded their expectations within budget.
"Protec provided our AV support and set design at our recent Centenary Conference held in Rome. Aimed at CEOs and C-suite representatives from our global membership of cooperative and mutual insurance companies, the bar is high and oh boy did Protec deliver!
From the spine-tingling video and emotive music to the stunning set design and seamless delivery on stage, delegates were blown away by the effect created.  But with Protec, it's not just the AV set-up which is spectacular, it's the assistance and support from the whole team which makes Protec stand out from the rest. Led by Stuart Mac, every crew member cares about their work. And it shows. The delivery was immaculate and not even an unexpected hotel power cut held them back. Due to their forethought and a battery backup system, they were up and running again within a couple of minutes. 
As a Conference organiser, there is much that can go wrong at an event of this size, but the one thing I can always rely on to deliver is Protec. The whole team more than deserved the cheers from the appreciative audience. Bravo!"
Yvonne Hautenne, Senior Vice-President, Events
Protec supplied scenic & staging, full AV equipment and 17 crew to deliver, run & remove the event directly from their UK operation. Stuart sourced 8 local crew and all plant and machinery hire locally in Rome.
Video solutions included a Barco S3 4K processor, 3 x 12k Panasonic Laser Projectors, 2 studio camera PPU packages, Resolume servers for playback, 5K Apple Macs for PIP playback and Keynote, full-screen video content produced with our UK production partners I Love That Creative and Aja Ki Pro recording which facilitated the event being recorded in 5 different languages.
Audio solutions included a Yamaha CL5 Sound Desk, 2 Rio 3224 digital sound racks, Nexo M6 Line Array, and Sennheiser radio mics with DPA headsets.
Lighting utilised an Avolites console and lighting racks, 70 LED uplighters and moving head fixtures, and 30 generics.
The scenic team provided a 25m x 6m set and backdrop, 16m x 4m front projection screen, 14m x 3m x 6m stage and all furniture and lecterns.
"I have delivered events for ICMIF for many years and they an absolute pleasure to work with. They put their complete trust in me to design and deliver events all over the world for them. Working with a dedicated and experienced events team is wonderful and I cant thank Yvonne and her team enough for always looking after us so well.
This was the first large European Event we have delivered for ICMIF since BREXIT. This obviously brought its own challenges having to work with very new customs and import rules and laws. These hurdles were overcome, and the event was delivered flawlessly by an awesome technical Protec Team onsite. It took a lot of planning and liaison with the Italian venue and suppliers, but everything was perfect, and I couldn't be happier with the result for the client. The only onsite challenge we had was a total loss of power to the venue during the final day of the packed three-day schedule. This didn't affect us for long though as we had the whole video solution powered through UPC backup battery units. The projectors used Laser units so within a couple of mins we were fully up and running and continued the event."
Stuart MacLachlan, Director, Protec European Events
Learn more about the ICMIF event here: